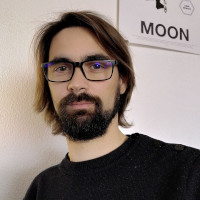 I am a researcher (CR CNRS) in mathematical physics in the probability team of Toulouse Mathematics Institute (IMT). I am also an associate researcher at neighboring Theoretical Physics Laboratory (LPT).
I am mainly interested in the mathematics of quantum system thermodynamics. I focus on definitions of thermodynamic quantities and their fluctuations, and study related questions in probability.
In 2021 I gave a masterclass to master students in mathematics in Toulouse. It consisted of a short presentation of a non exhaustive selection of topics relating probability and quantum mechanics. The support I used is available: Introduction to quantum mechanics for probabilists. It may be helpful to understand my research interests.
With Ion Nechita and Clément Pellegrini, we organize the IMT-LPT mathematical physics seminar. The schedule is available on indico.math.cnrs.
I am the coordinator of ANR project "Quantum Trajectories (QTraj)". I am also a member of ANR project ESQuisses.
Starting January 2024, I am a member of the scientific council of CNRS National Institute of Physics (CSI - INP).
I am one of the organizers of the semester Mathematical Aspects of Quantum Mechanics from January to June 2024.
Several events are organized and you are welcome to participate.
firstname.lastname@math.univ-toulouse.fr,
Institut de Mathématiques de Toulouse,
118 route de Narbonne,
F-31062 Toulouse Cedex 9,
France,
Building 1R1, office 218.
Publications
Articles
All my articles preprints are available on this arXiv page. You can also find my articles listed on my ORCID and this HAL page.
Ph.D. thesis
Open quantum systems and quantum stochastic processes (defended in September 2014, supervised by Denis Bernard)
Internships and Ph.Ds
Here is a list of examples of subjects of masters internships I can propose. They can all be continued into a Ph.D. or constitute the starting point of a Ph.D.
If you have any inquiry or idea of subject related to my research please feel free to contact me.
(no hierarchy is meant in the order of the list)
Full CV
You can consult my full CV.